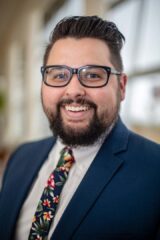 Isaiah Werner
Marketing Manager
Oklahoma City, OK
405-212-3126
Isaiah Werner
Marketing Manager
Isaiah joined the BuildBlock team in August of 2016 after relocating from Chicago to his home town of Oklahoma City. He has a wide variety of experience in several creative fields including theatre, music, video production, playwriting, marketing, and social media.  He comes to BuildBlock with an interest in construction and ICFs and a love for creative education.
In Chicago Isaiah ran marketing and communication for both Urban Village Church and Adapt Theatre Productions for several years. Most recently he worked in Training and Development at the industrial supply company McMaster Carr.
Isaiah has a BFA in Acting with a minor in Directing from Oklahoma City University. He is a founding member of Chicago's Adapt Theatre Productions. His stage play Scissortail (a play about the Oklahoma City Bombing) was nominated in 2016 for Chicago's Joseph Jefferson Award for Best New Work. He enjoys writing, playing guitar, live theatre, the NBA, and exploring new cities with his wife Korri.
Latest Posts