Micah Garrett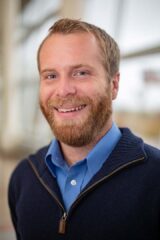 Micah Garrett
Chief Operating Officer
Oklahoma City, OK
Micah joined BuildBlock Building Systems in October of 2018 as its Chief Technology Officer. The son of the founder, he has gained exposure and learned about manufacturing and the ICF industry since a very young age. Micah as CTO manages BuildBlock's manufacturing, operations, technical and accounting departments. As CTO, Micah works directly with the accounting manager and operations manager to ensure that customer orders are filled, collected quickly, and bring the highest level of satisfaction to BuildBlock's customers. Micah also works directly with each manufacturing facility to ensure production meets demands and helps solve any problems those facilities may encounter related to BuildBlock's tooling and equipment.
Micah graduated in 2011 from Azusa Pacific University with a dual bachelors in Philosophy and Biblical Studies. Prior to joining BuildBlock, Micah worked for Garrett and Company managing construction and real estate. He has taught and instructed for the National Outdoor Leadership School "NOLS." He was a public-school teacher for Teach for America in Arkansas and Colorado after college.
While at Garrett and Company, Micah acted in many roles including construction management, property management and real-estate development. Micah honed his construction knowledge acting as a superintendent for several large commercial projects. He also managed the leasing and maintenance of 120 individual industrial and commercial spaces owned by the Garrett family. Working at Garrett and company helped Micah gain hands on commercial construction experience that will be valuable to many of BuildBlock's customers.
After graduating university Micah earned a position with the 2011 Teach for America Mississippi Delta Corps and began teaching for a public school in Fordyce, Arkansas. While working his two-year contract Micah taught art and design to both middle and high-school students. Working with a budget of $500 dollars a year, Micah found ways to enrich his student's literacy in the arts and design while working in an impoverished community.
Upon completing his tenure with Teach for America, Micah, and his soon to be wife, Kelly, moved to Colorado and took teaching jobs with a public charter in Denver, Colorado. Soon thereafter Micah found an opportunity to pair his past collegiate and commercial experience working as a whitewater rafting guide with his teaching skillset and took a job with the National Outdoor Leadership School. Micah taught for NOLS' whitewater program out of Vernal, Utah, and enjoyed sharing his passion for teaching and educating in the remote wilderness areas of Utah. While at NOLS Micah continued to develop his teaching practice, and learned the skills necessary to manage a team of students and empower their own leadership.
This variety of skillsets has prepared Micah to lead several different components of BuildBlock's business. Micah and his family look forward to the continued growth and development of BuildBlock's business over of the coming years.
---
---