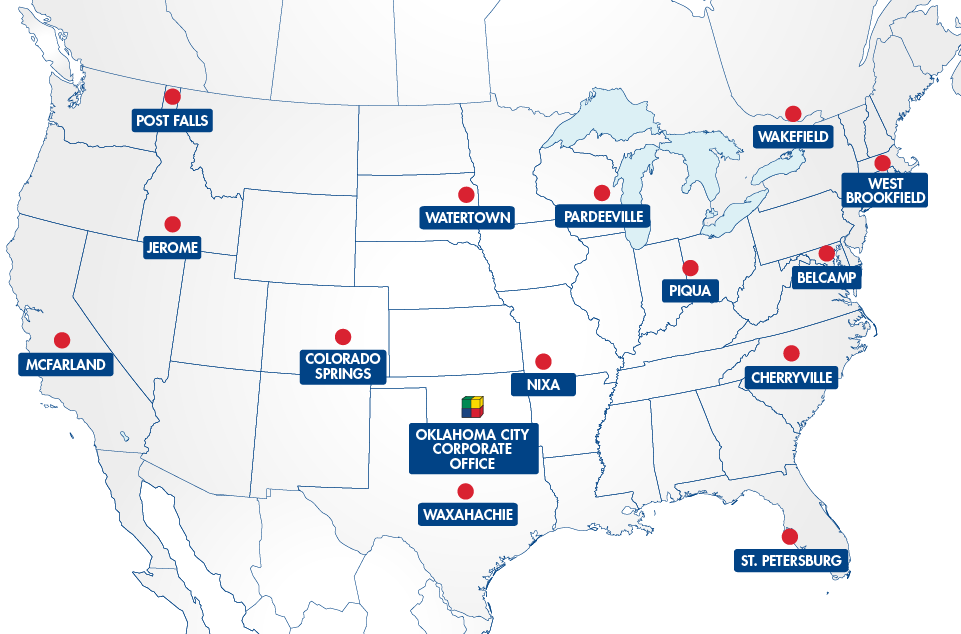 BuildBlock Building Systems has 14 manufacturing facilities across
North America and continues to add new locations to better serve you.
Shorter shipping distances mean lower freight costs and faster delivery times for you and your customers, as well as the potential for LEED Regional Material points. We have the manufacturing capacity to meet your ICF needs now and in the future.  The BuildBlock professional network of distributors, dealers, and installers throughout the U.S., Canada, Mexico, and foreign licensing partners throughout the world.
North American Manufacturing Locations
Belcamp, Maryland
McFarland, California
Colorado Springs, Colorado
St. Petersburg, Florida
Jerome, Idaho
Post Falls, Idaho
West Brookfield, Massachusetts
Cherryville, North Carolina
Nixa, Missouri
Piqua, Ohio
Watertown, South Dakota
Waxahachie, Texas
Pardeeville, Wisconsin
Wakefield, Quebec
BuildBlock Corporate Office
BuildBlock International Partners
San Bernardo, Santiago, Chile
How BuildBlock ICFs are Made
Cómo se hacen los ICF de BuildBlock
BuildBlock ICF Manufacturing
BuildBlock strives to manufacture the finest, most value-oriented form in the marketplace, building one of the strongest distribution and manufacturing companies along the way. BuildBlock introduced the industry's first online ordering system allowing customers to order products at their convenience, while also developing a unique master distributor program with protected territories. Each year BuildBlock increases its manufacturing locations. Currently there fifteen locations in North America.
More locations provide shorter shipping distances and lower the delivered form costs to our distributors and customers. It further increased its distribution with foreign licensing of its products around the world and opened its first foreign facility in Egypt in 2012 making BuildBlock truly an international form company. BuildBlock has added western Canada and Mexico facilities since then and continues to expand. BuildBlock has additional licensees around the world including Cyprus and the Philippines.
BuildBlock has continued to evolve its product line including versatile and very affordable BuildDeck floor and roofing system, BuildLock Knockdown 4-12+ inch products, BuildBuck ICF Door & Window Bucking, GlobalBlock the first fully reversible all foam ICF, and the newest addition BuildRadius, the first true radius form on the market. Additional ICF accessories such as BuildBrace an ICF bracing and alignment system, BuildCrete Stucco & Plaster finishes, ThermalSert Insulation Inserts, and BuildClip an optional reinforcing clip strengthening cut blocks as they're integrated into flooring systems are added to solve needs in the market today.
The future is very bright for BuildBlock distributors and customers. BuildBlock is a company of innovation, service, and growth in this exciting industry. We believe that we are changing how buildings are built today and for the future. Build your future today. "Build It Once Build It For Life"
Manufacturing Locations
October 8, 2012