Use ICFs to Build Your Energy Efficient Swimming Pool
ICF Pool Construction Model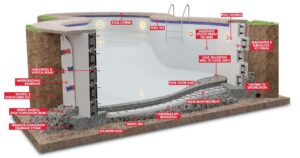 Click image to see a larger version.
Learn the Basics of ICF Pool Construction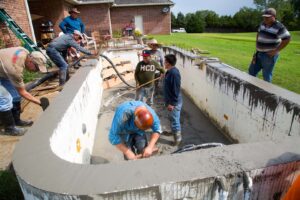 Click to start learning today!
Insulating Concrete Forms are one of the most versatile building products on the market. They are frequently used for many structures including homes and commercial buildings and are growing in popularity for building swimming pools. BuildBlock customers have constructed retaining walls, fences and gates, fire pits and more. One increasing request for information has been ICF swimming pools. ICFs in swimming pools not only speed construction, but the insulating foam prevents more than 80% of the heat loss of the pool. This means it's much cheaper to heat your pool, but also increases the length of the pool season.
"ICFs have been used for swimming pools since the very beginning of the industry. In the past few years several manufacturers have created additional coatings and finishes specifically for ICFs that work well in pool environments too."
– ICF Builder Magazine, July 2013
BuildCrete Pool Plaster, a Gigacrete product is perfectly suited as the waterproof coating and plaster directly applied to the EPS foam. Another full line of ICF pool construction products can be found at sider-crete.com ICF pools are being built on many types of projects. Usually found in large custom homes, they are also found in community pools and as an energy efficient addition to existing homes as well. ICFs primary component is EPS foam. They are easily formed into almost any shape imaginable and since they form an extremely flat and smooth wall, they are easily finished.
ICF Swimming Pool Engineering & Installation Manuals
BuildBlock ICF Swimming Pool Engineering Manual
The BuildBlock ICF Swimming Pool Engineering Manual is intended to provide prescriptive requirements for the design of BuildBlock Building Systems ICF In-Ground and Above Ground reinforced concrete Swimming Pools. It provides the wall, footing, and reinforcement designs for building above ground and in-ground ICF pools, cisterns, and water basins. This guide provides recommended designs for a variety of soil and seismic conditions.
BuildBlock-Pool-Engineering-Manual-Revised-7-25-22.pdf
BuildBlock ICF Swimming Pool Construction Manual
The BuildBlock ICF Swimming Pool Construction Manual provides a guide to the construction of your ICF swimming pool. This new document covers the ICF pool building process from start to finish. ICFs swimming pools are not only faster to build, but the insulating foam prevents more than 80% of the heat loss of the pool. Not only are ICF pools less expensive than gunite pools, they're much cheaper to heat your pool increasing the length of the pool season and delivering superior results for the lifetime of your pool. 
buildblock-pool-installation-manual-revised-8-2020-final.pdf
BuildCrete Pool Plaster Finishing
The BuildCrete Pool Plaster is a synthetic pool plaster. Designed to be 100% waterproof it uses an embedded 11oz. fiberglass mesh to deliver 3500psi of strength when finished. The pool plaster crystalizes as it cures. These crystals grow into the ICF foam face and add an additional mechanical attachment. BuildCrete Pool Plaster doesn't support the growth of mold or mildew and has a much longer lifespan than traditional plasters. It can be used as a base for tile and is easily applied.
BuildCrete-BestPracticesGuide-revised.pdf
The greatest cost savings, though, are long-term. "Experts calculate that up to 80% of a pool's heat is lost through the sides and bottom of the pool, due to the fact that the ground conducts heat far more efficiently than air does. Considering the surface areas involved, continuous insulation is the best choice."

-ICF Builder Magazine, July 2013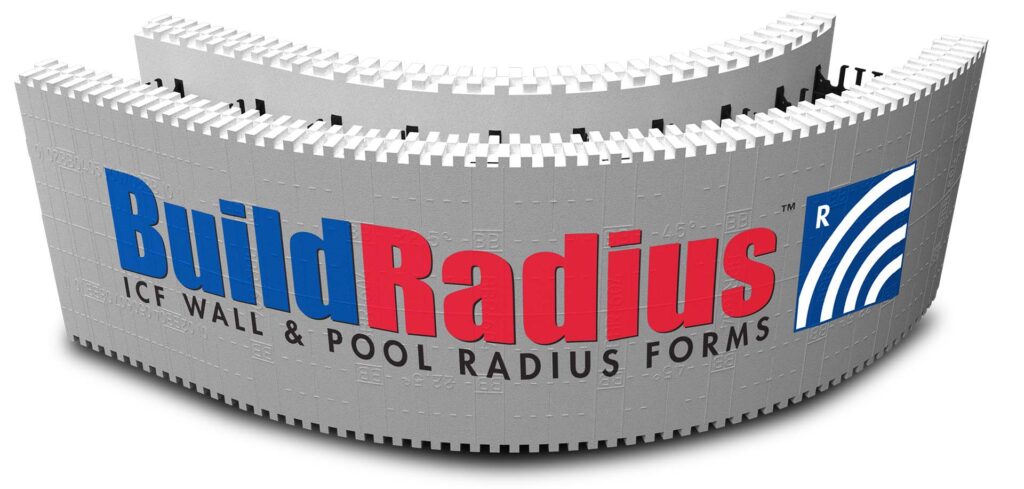 ICF Pool Advantages
Faster Construction
Modular, Light-weight, Easy to use.
Easily Shaped, Modified and Stacked.
Environmentally Friendly, Low Waste
Easy Rebar Placement
More consistent wall finish
Why ICF
Most residential swimming pools are built in conjunction with custom homes and frequently when the owners choose to build with ICFs for longevity and reduced energy costs, they'll choose an ICF pool for the same reason. This great simplifies construction and uses the same materials as their home.
Field Cut Radius
While BuildRadius is the fastest and easiest way to create curved walls for your pool, it is important to remember that field fabricated radii are also possible with all BuildBlock and BuildLock standard straight forms. View this CAD detail for specific information on how to create radius walls from straight forms or the BuildBlock Installation & Technical Manual.
Building an ICF Pool is now even easier with BuildRadius ICF forms. Combine BuildRadius with BuildBlock forms to create any shape or style imaginable.
BuildRadius is a family of radius forms for use in ICF walls and pool construction. The BuildRadius forms create 2', 4', 8', 12', 16', and 20' arcs. Each of these blocks interlocks into any BuildBlock 6" product line and uses the standard BuildBlock webs.
Available in 6" widths initially, these forms are designed to ease construction of energy-efficient ICF pools, southwest style homes, bay windows, circular staircases, and provide options when designing unique areas in ICF homes.
BuildBlock Pool Construction Gallery
We are currently in the process of building a BuildBlock ICF pool in Oklahoma City. This project utilizes BuildBlock 6″ straight forms, 2′ curved radius forms, and the Form-a-Drain footing and drainage system.   This gallery will be updated as progress continues. Click here to see a brief overview of ICF pool construction.
BuildBlock Pool Gallery
BuildRadius Product Gallery
Do You Build Pools?
If you're a pool contractor looking to build with ICFs, let us know. We will set you up with the resources you need to build with BuildBlock!
ICF Swimming Pools
March 5, 2014