ICFs (Solid Mass Walls) vs Wood Walls (Cavity Walls)
Let us look at construction from the end user point of view, the homeowner or home buyer. There are many reasons most people consider before building a home. Let us assume our end user has property to build on and a rough idea how his house plan is laid out. We will go one step further and say our end user has a house plan already which was purchased online and drawn with wood 2×6 walls.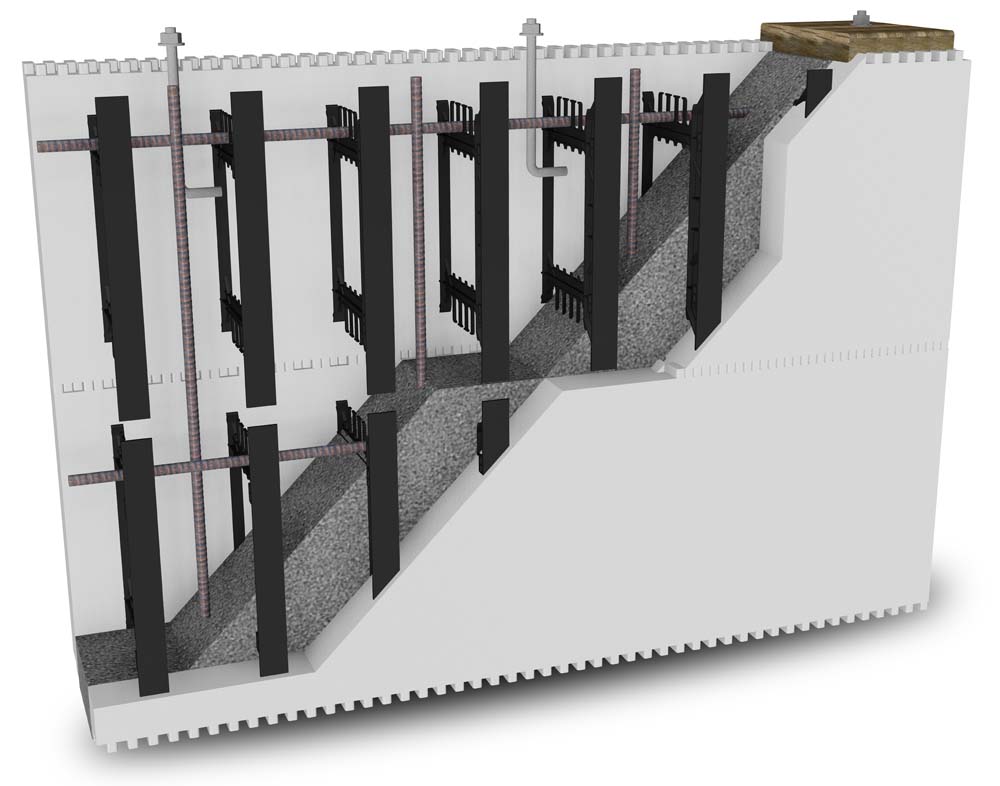 Consideration

Cavity Wall

Solid Mass Wall

Blueprint Design, Layout

In this scenario our plans were purchased online.

Using the same blueprints you would simply maintain inside dimensions. The added thickness of wall would be added to the outside. May require a cross-section of ICF wall with re-enforcement detail

Family Protection
Natural or man-made Disasters. Tornado, Hurricane, Seismic, Flood, Fire, War etc.

Billions of dollars in losses due to the destruction of conventionally built structures due to natural disasters. Including black mold from water damage.

Can be designed to withstand 200 mph plus winds. 2 to 4-hour fire rated walls. Does not support mold or mildew.

Green
Green Build LEED point
contributions

Average lifespan; 80 years
More jobsite waste added carbon footprint
Deforestation, higher energy costs, higher labor costs

Average lifespan; 200 + years
Less waste, reduced landfill, lower energy costs, reduced carbon footprint, indoor air quality, higher occupant satisfaction, high safety level

Milestone
Start to finish time frame,
The speed of construction

Shortened construction season in cold weather climates, higher installation cost, and longer build time.

The speed of construction, framing, insulating

Construction Cost
Actual construction vs.
Long-term savings

Overall cost of conventional framing is generally less than ICF saving an average of 3%, but, additional operating and maintenance cost is substantially more over the long term.

Cost of construction will vary from region to region but we will use 3% as our added cost to build. In the long term, the breakeven point is usually 5 years, saving you thousands of dollars over the life of your home.

Heating & Cooling
Sizing HVAC
Air quality

More upfront cost for heating and cooling units and higher operating costs

Downsize size of heating and cooling units with lower operating costs.

Sound

Average sound transmission (STC) rating of 36-38

STC rating of 50+ quiet secure feeling

Sustainability
The lifespan of Structure

80-year average. More landfill

200 Plus years possibly doubling or tripling that figure. Lower maintenance
This actually is how many of us start when dreaming of that special home. We look at lots of layouts and try to find that perfect plan that just seems to fit our families wants and needs. This is the scenario we will use for our comparison. We will cover homebuyers who prefer to look for homes that have already been built, apartment buildings and such in the contractor and builder sections. This section is about the end-user that wants to be a part of the construction process whether it is in the design stage, choosing the right builder, or getting your hands dirty and helping on all or a portion of the build. Now, back to our scenario:
This book is for anyone who is looking to design, market, build or own a new home and wants to use the best possible system for building a strong, energy-efficient, safe, healthy home. "ICF" gives you the answers and challenges every Architect, designer, contractor, builder, and homeowner will need to know to make an informative decision on how to get the home of the future right now!
Where ever and whenever you decide to build you will find this easy to understand and informative book gives you the answers to important questions including:
How do ICFs work?
Are ICFs cost-effective?
What are the basics of ICF construction?
Will ICFs save time?
Can I achieve a clean, safe comfortable home with ICFs?
What are some of the dos and don'ts of ICF construction?
and much more!
So, if you're serious about wanting the home of the future now and you want to know a stronger, safer, quieter and more energy efficient way to do it, then you need to buy "ICF": Building Better Homes with Insulating Concrete Forms by Dennis Micoff
Stronger; Preparing for the future. Solid Construction means safer secure homes.
ICF Walls vs. Cavity Walls
July 3, 2013