Common ICF Myths & Misconceptions
Everyone that wants to build your home will have lots of thoughts and ideas about what materials you should use. Remember they will never live in your home. When considering building costs, understand it's the ongoing cost that's important. 
Click each icon below to learn why these common ICF myths & misconceptions are false.
ICFs are too expensive…
ICF Cost Comparison
Proper planning and design mitigate most of the cost difference in choosing to build with ICFs. On average, ICFs cost 3-5% more to build a comparable size home, depending on the manufacturer and other factors impacting local building costs. It's important to know that potential increased building costs can be offset by significantly lower utility bills.
Houses built with ICF exterior walls require an estimated 44% less energy to heat and 32% less energy to cool than comparable frame houses. The bigger the house, the bigger the savings. In colder areas of the U.S. and Canada, heating savings will be more and cooling savings less. In hotter areas, heating savings will be less and cooling savings more.
The "True" Cost of an ICF Home
On average, new houses built by experienced contractors cost about 4-7% more than conventional 2×4 wood frame houses of the same design. There are cost savings in other areas that will help to offset some of these first costs as well as provide the homeowner with significant improvements in day to day operational expenses and environmental impacts.
Since ICF homes are more energy-efficient, mechanical equipment can be smaller than in a frame home. This can typically result in at least 1% in up-front savings. So the net extra cost will be about 3 to 6% of the sale price of the home 1.
Higher quality exterior walls and smaller mechanical systems mean less monthly cost for the homeowner with savings of at least 25% or more depending on the climate. Downsized HVAC also results in reduced greenhouse gas emissions over the life of the structure compared to less efficient wood-frame construction.
ICFs are too complicated to use…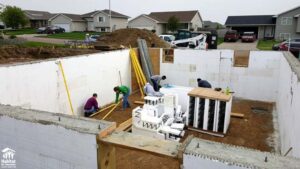 ICFs are known for a lot of things, but "complicated to use" is not one. ICF blocks are stackable, easy to cut, easy to move, and learning how to build using ICFs is easy too!
You Don't Have To Be a Pro To Use ICFs
The Habitat for Humanity in Sioux Falls, North Dakota is a great example of how easy ICFs are to use. While their construction crew did have a couple of experienced members, most of their team consisted of volunteers with little to no construction experience. Even with a lack of construction experience, their crew had no difficulty building with ICFs.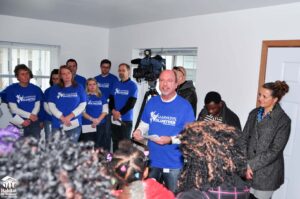 "When people first get to the jobsite they do have some questions," said Niki Schillerstrom, Habitat of Sioux Falls Community Relations Director. "How does this work? How is it stable?" But once the basics of ICFs are explained, Schillerstrom said that the jobsite becomes very fun, "The forms are very light and easy to work with. Everybody likes that they are like Legos."
Learning to build with ICFs has never been so easy! BuildBlock offers a completely free online training portal with classes that teach you how to build with ICFs.
I can get the same efficiency with wood…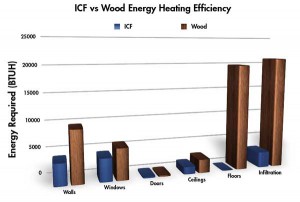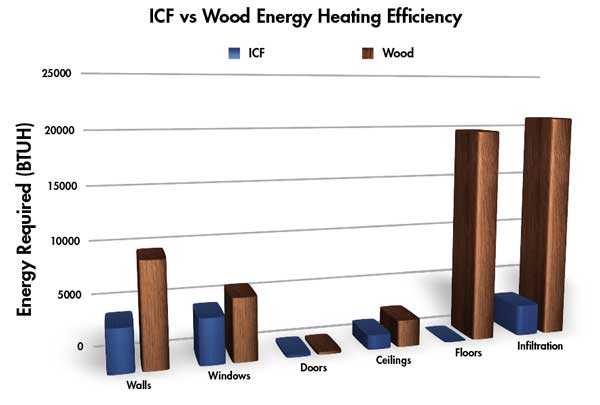 Unlike with wood-frame walls, ICF walls are made of solid concrete with thick, insulating foam on each side. Both concrete and foam are both excellent thermal barriers. By combining these materials, they produce a dramatically superior energy-efficiency performance compared to wood.  Scientific testing has proven this and other common ICF myths have been proven false.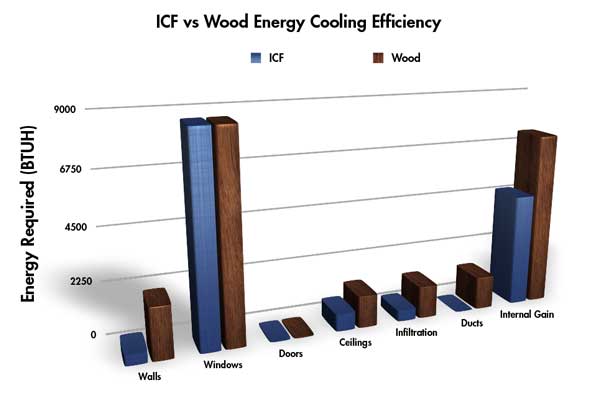 For decades, the ICF Industry has been asked to provide definitive proof that thermal mass, the airtightness and continuous insulation features of ICF walls deliver real, quantifiable benefits in terms of overall energy-savings and achieved R/RSI-values. Many studies have been conducted in the past by the Portland Cement Association (PCA), the Canada Mortgage and Housing Corporation (CMHC) and the Department of Housing and Urban Development (HUD) all of which were either based on limited field comparisons or thermographic computer modeling. This is the first time an SCC and ISO accredited and an internationally recognized testing facility has been commissioned to evaluate a realistic side-by-side comparison of these two types of wall assemblies within a single study. The reported results confirm the following when building with ICFs:
58% better overall R/RSI-value than the insulated wood frame cavity wall
60% better energy savings than the insulated wood frame cavity wall
Measurable effect directly attributable to thermal mass & continuous insulation on both sides of the wall assembly
The 2″x6″ wood framed cavity wall required 38.9 kWh to maintain steady state. The ICF wall only required 15.6 kWh of energy to do the same work.
This is a consumption of 132,828 BTU for the wood-framed cavity wall versus only 53,209 BTU for the ICF wall.
Read and Download the entire study now! 
Concrete homes are ugly and unattractive…
ICFs are extremely adaptable to be used for any design meaning ICF homes look no different than any other. They're also compatible with traditional exterior finishes including venal or wood siding, stucco, rock, and brick. 
With an ICF home, you don't have to compromise looks and design to achieve a green, energy efficient, and disaster resilient home.
ICFs are only good in really cold climates…
ICFs are able to offer superior insulation and both hot AND cold climates. ICF insulation keeps your home cool in the summer and warm in the winter. The proven energy savings and insulating performance effectively dispel this and other common ICF myths. 
The heating or cooling experienced during the day or night is stopped from influencing the inside temperature through both the EPS foam insulation and the concrete core. While the EPS foam works as an effective insulation it's the thermal inertia of the concrete core that adds the greatest advantage. The concrete is heavy and dense and resists changing temperature, hot or cold. Think about the evening after a hot summer day when the sidewalks and streets are still warm late into the night. The concrete, once heated, stays warm for a long time. The opposite (cold concrete) is true as well.  This thermal inertia of concrete helps stabilize the wall temperature. Combined with the insulation on both sides of the wall, preventing either exterior temperature changes or interior heating and cooling from affecting the wall temperature on the other side.


A testament to ICFs insulation properties is a home that Mike and Lauren Braunschmidt built in Colorado. They did so without any kind of air condition system. In the final stages of their construction, the Braunschmidts decided to wait a year before deciding whether an AC unit is necessary. Even in Colorado's excessively hot summer days, the Braunschmidt's home stayed at 72 degrees consistently. Ultimately, they decided an AC unit was unnecessary and never installed one. This decision ended up saving them thousands in installation and even more in annual energy bill savings.
Only underground safe rooms can protect my family…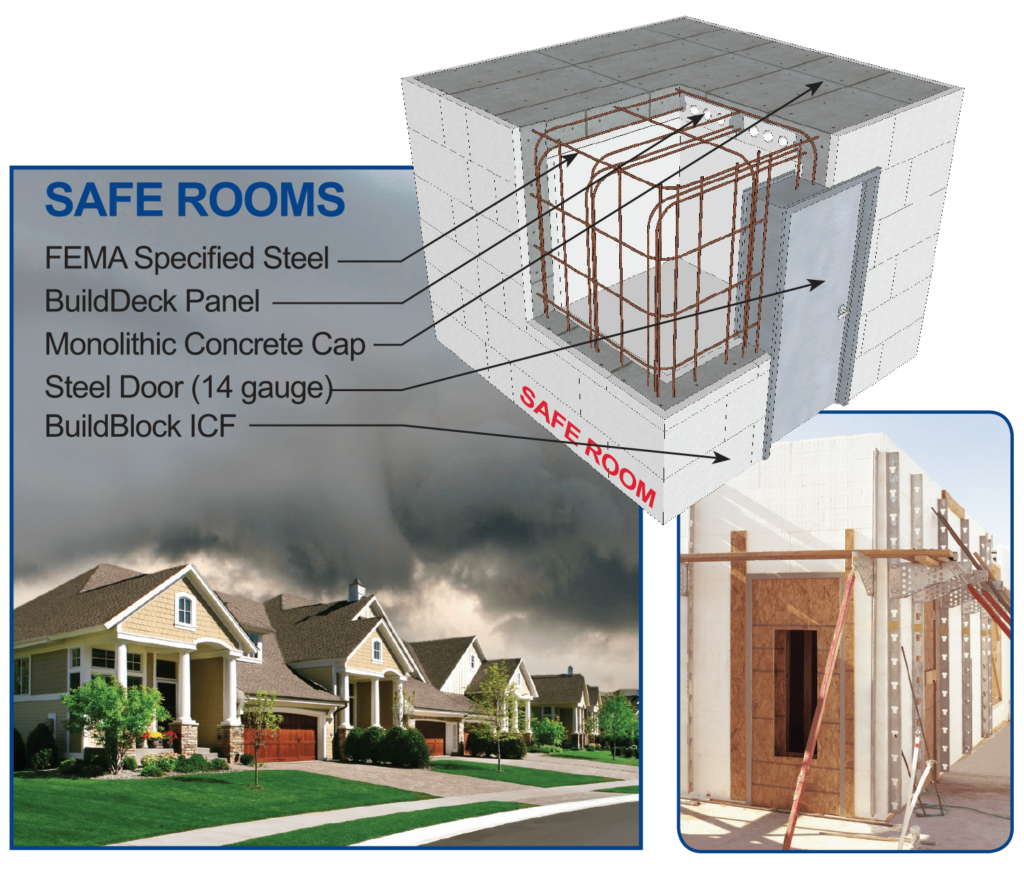 An ICF Safe Room provides protection from winds as high as 250 mph. These safe rooms are created by building any room (such as the master bedroom closet) with ICF walls, pouring a concrete "lid" on top, and installing a steel door. Not only does it keep your family safe, a closet Safe Room is a fire-resistant storage area for your valuables and heirlooms. Integrating a safe room into your new home design, adding to an existing home, or retrofitting current home are all affordable and straightforward.
ICF Safe Rooms are like any other room in your home. Master bathroom, bedroom, closet, pantry, media room and more. Building a safe room doesn't mean building an ugly bunker. Using ICFs, you can finish this room however you would like and use it as a part of your home each day. Add an ICF safe room to existing homes or new construction today!
It's hard to comply with energy codes using ICFs…
The International Energy Conservation Code (IECC) defines mass walls as walls made of concrete block, concrete, insulated concrete form, masonry cavity, brick, earth, adobe and solid timber or logs. ICFs are considered Mass Walls and are listed as such in IECC Section R402.2.5 Mass Walls.
This status causes much confusion when reading the current energy code requirements. Mass Walls are governed under a separate set of guidelines from cavity walls because of significant differences in how the insulation performs
Cavity walls are usually wood or steel framed with insulation between framing members for the outside walls. Most single-family structures in the United States are built with cavity walls. While cavity walls may meet local and national building codes, but lack the performance and resilience when compared with ICF mass walls.
How do ICFs have a 4-hour fire resistance rating?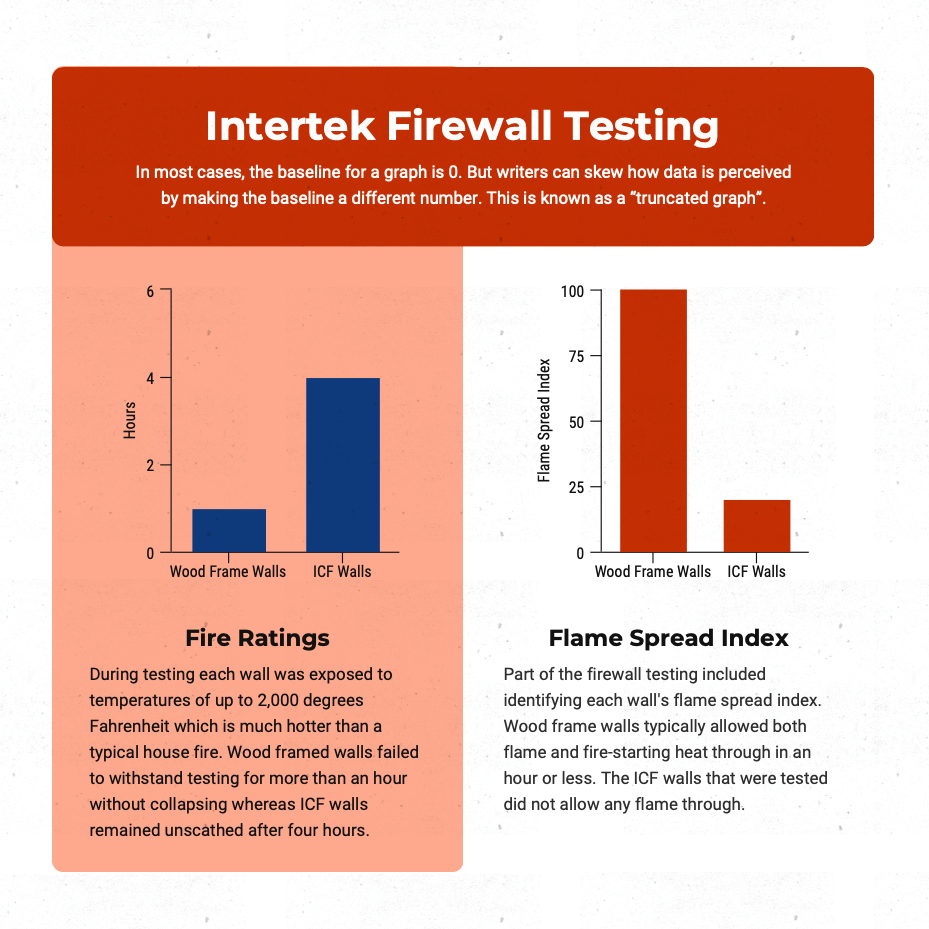 When used as a building material, EPS foam contains a fire retardant added to the bead before it is expanded and molded. Additionally, EPS foam with this fire retardant is not a fuel source. The EPS foam is expanded with steam and only contains air. When exposed to high heat, EPS foam doesn't burn, it melts. The EPS foam used in packaging and shipping is not the same as the EPS foam used in construction products.
It is superior to standard poured wall construction because of the insulation value of the EPS foam. It is both the fire retardant and the insulation value of the foam that makes it perfectly suited to help protect structures during a wildfire. The ICF walls prevent the heat of the fire from transferring to the interior of the structure for several hours. In a wildfire situation, this is generally longer than the fire burns in a given area.
Designing your home with this in mind and incorporating other fire-retardant materials in roofing and exterior finishes will give you and your family safety and peace of mind in the face of disaster.
Using ICFs will limit my house's design…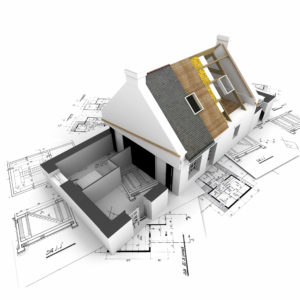 ICFs are extremely adaptable to any design, making them an architect's dream!
The polystyrene foam used to make ICFs is an easy material to cut and brace which makes forming any angle or curve an easy accomplishment. Designed with a patented measuring tape and cut lines built into each block, BuildBlock ICFs making it even easier to achieve your desired shape. Whether you're building a house, school, or a safe room, ICFs are incredibly versatile building material and can be used for any design without the hassle.
You can also easily apply vinyl or wood siding, stucco, rock, and brick to ICFs. You can make your ICF house can look like a traditional home if you want.
ICFs are some of the most versatile building materials available. You can have unique footprints, arches, angles, and curves as part of your design at a lower construction cost than with traditional building methods.
Common ICF Myths & Misconceptions
February 12, 2014