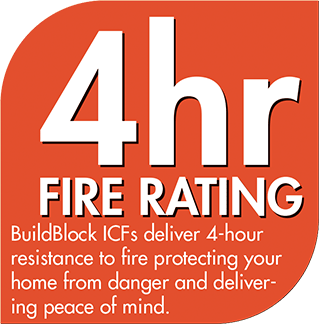 BuildBlock ICF Firewall Test
The BuildBlock ICF Firewall Test uses industry accepted testing methods conducted by an independent third-party organization to ensure that wall assemblies using properly manufactured BuildBlock ICF products comply with required fire ratings.
About ASTM E119-00A
These methods are applicable to assemblies of masonry units and to composite assemblies of structural materials for buildings, including bearing and other walls and partitions, columns, girders, beams, slabs, and composite slab and beam assemblies for floors and roofs. They are also applicable to other assemblies and structural units that constitute permanent integral parts of a finished building.
Significance
This standard is intended to evaluate the duration for which the types of assemblies noted in 1.1 will contain a fire, or retain their structural integrity or exhibit both properties dependent upon the type of assembly involved during a predetermined test exposure.

Date: December 12, 2005
Location: Intertek San Antonio, TX Facility
Results: Intertek Abstract: "A 10-ft x 10-ft x 11-in (6-in. core) thick load-bearing wall assembly constructed from BuildBlock Building Systems BB-600 insulated concrete forms filled with minimum 3,000 psi concrete produced, assembled and tested as described herein, successfully met the conditions of acceptance as outlined in ASTM Method E119-00a Fire Tests of Building Construction and Materials for a fire endurance rating of 3-hours while carrying a superimposed load of 5,000 pounds per lineal foot."
Firewall Test Process
BuildBlock ICF Firewall Test
June 24, 2014