BuildBrace ICF Bracing & Alignment system

Alignment is the most important part of your ICF project. 
When straight walls are your trademark and productivity is your reputation, there are no substitutes for using an ICF bracing systems. BuildBlock recommends its BuildBrace 1-piece or 3-piece system by Plumwall. Another option is the Zont & Zuckle system. Talk to your BuildBlock sales rep today and find out what's best for your project.
Want an unbiased opinion, look at ICF Builder Magazine's discussion. http://www.icfmag.com/how-to/ht_wall_bracing.html

Zont & Zuckle
Zont™ bracing flattens your ICF wall perfectly: Zont™ brackets hold horizontal walers and vertical strongbacks. Learn more at FabForm

Benefits
Flatter walls: horizontal and vertical straightening
Economic: 10% the cost of vertical bracing
Lightweight: 8% the weight of vertical bracing
Adaptable: brace stem walls or tall walls
Green: use site available 2x4s
Portable: 12 'braces' fit in 5-gallon bucket
OSHA Compliant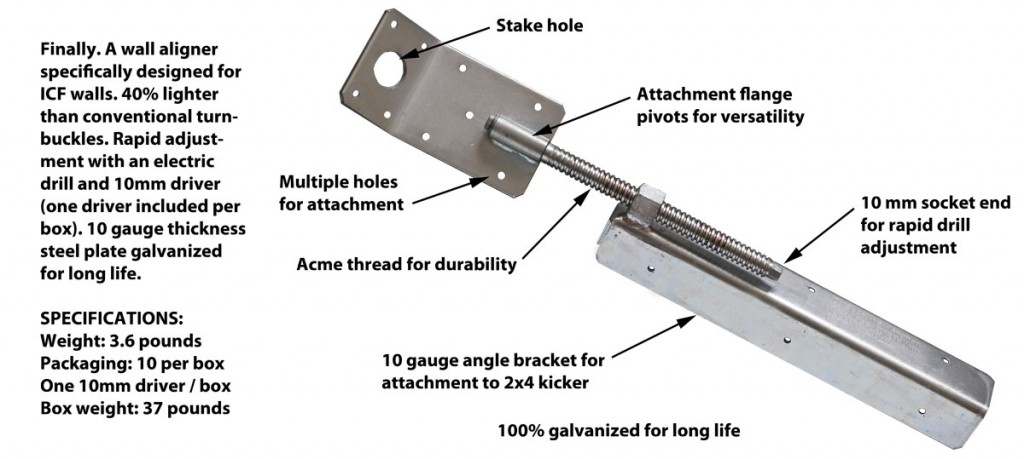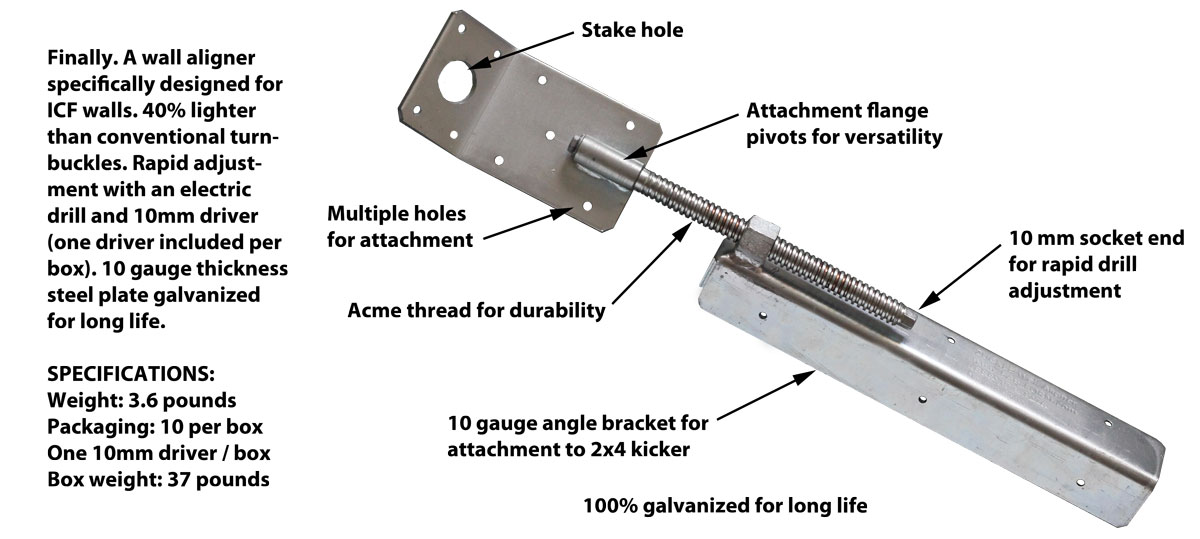 Zont™ Waler Bracket
Zonts™ support 2×4 walers and strongbacks against the ICF wall thereby flattening the wall horizontally and vertically. Their 10 gauge thickness and galvanized finish guarantee long life.
Specifications:
Weight: 1.6 pounds
Packaging: 25 per tote box
Tote box weight: 44 pounds
Tote box size: 19″ x 13″ x 10″
Zuckle™ Wall Aligner 
Finally, a wall aligner specifically designed for ICF walls. Zuckle Wall Aligner is also 40% lighter than conventional turnbuckles. Rapid adjustment with an electric drill and 10mm socket. 10 gauge thickness and galvanized finish guarantees long life.
Specifications:
Weight: 3.6 pounds
Packaging: 10 per box
Box weight: 39 pounds
Box size: 20″ x 13″ x 6″
ICF Bracing & Alignment
April 24, 2014