ICFs Offer Grater Safety & Disaster Resilience
Insulating Concrete Forms create a monolithic concrete wall that is 10 times stronger than wood-framed structures, ensuring your home is safe & disaster resistant. The greatest benefit of an ICF home is the peace of mind that comes with being surrounded by the strength of concrete and steel.
ICFs combine concrete, steel, and foam to create an impenetrable barrier and unshakable walls, ensuring your home offers greater safety and disaster resilience. 
Click on an icon to learn more!
Debris driven by high winds presents the greatest hazard to homeowners and their homes during tornadoes and hurricanes. While wood frame walls offer little protection from airborne hazards, concrete walls are proven to resist the impact of wind-driven debris.
Because concrete, steel, and foam are all nonflammable, an ICF wall is also great at resisting wildfires and stopping the spread.
Concrete homes can be among the safest and most durable types of structures in an earthquake. Homes built with reinforced concrete walls have a record of surviving earthquakes intact and structurally sound.
---
Whether you're facing an earthquake, wildfire, hurricane, or even a tornado – ICFs offer greater protection.
Comparison of major construction materials and their ability to protect during natural disasters.
A Growing Threat 
Tornadoes, fires, earthquakes, hurricanes, or flooding; natural disasters are a growing threat capable of total destruction. That's why it's important to have a frank conversation about disaster resilience in home construction. When building a disaster-resistant home, you're choosing to put faith in materials. You want a space that is safe, clean, aesthetically pleasing, long-lasting, and the list goes on. You need the structure of the home to be reliable and predictable. One of the trademarks of natural disasters is their ability to be unpredictable. Wind speeds will surge, storm formations change course, and both fire and flood can carve an independent path through neighborhoods and communities. So when choosing the building materials that make up a home, it's important to know that your foundation, walls, and roof will stay safe & disaster-resistant no whatever is thrown at them.
Wood Construction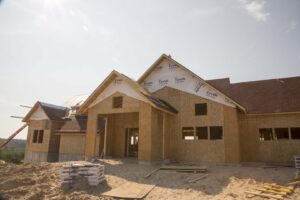 First, let's take a look at how most homes are built; wood. Like I stated above, it's important that building materials be predictable. And in the case of wood, it is. We know exactly what we get when a building is framed and formed out of lumber.
High winds easily blow through wood-framed homes.
Flying debris can penetrate walls.
Water causes wood to rot and flooding can quickly make a house permanently uninhabitable from mold, mildew, etc.
Wood burns (obviously) but the ability for flames to spread in wood-framed construction can be detrimental to both home and human life.
These are just a few of the drawbacks of wood. We shouldn't have to mention (but I will) termites, energy consumption, sound attenuation, and air quality. All of which leaves much to be desired for the owner of a wood-frame home, unfortunately. Residential construction has relied on lumber for centuries because it's what we know. As a result, a majority of these homeowners, architects, city planners, and general contractors will choose to rebuild using the same materials that were just proven inadequate in the face of disaster. While we understand the comfort that comes from tradition, it's short-sighted to ignore everything else that we know about the limitations of wood, especially when it is not the only option.
Concrete Construction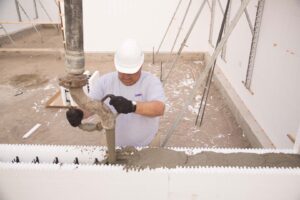 Next, let's look at another option: concrete. Similar to wood, concrete is predictable. However, that's where the similarities end. If you take a look at the bullet points, you'll see how concrete offers a solution to each of the challenges that wood faces in regards to natural disasters, making them safe & disaster-resistant.
Steel reinforced concrete stands up strong to wind and earthquakes.
Flying debris is stopped in its tracks.
Concrete doesn't weaken or rot when in contact with water.
Concrete simply doesn't burn.
It's easy to see that when it comes to disaster resilience because concrete outperforms wood in every way.
Building with Insulating Concrete Forms (ICFs) takes steel reinforced concrete to the next level by making it simple to build with. One product allows you to form, frame, furr, sheath, insulate, and soundproof the home, saving time and labor. As a result, when the home is complete, it boasts all of the benefits of a concrete building while also being extremely energy efficient, quiet, and healthy.
ICF Homes Are Built To Last
Unfortunately, most wood-frame homes simply don't have the strength to withstand damage from tornadoes or hurricanes. As a result, a majority of these homeowners, architects, city planners, and general contractors will choose to rebuild using the same materials that were just proven inadequate in the face of disaster. Sadly, we see it every year across the country. We return to wood after tornadoes in Oklahoma, fires in California, and hurricanes in Louisiana but we deserve better. Now, it's time to end the constant cycle of build, destroy, repeat. At BuildBlock, our motto is "Build it Once, Build it for Life" and we take pride in providing products that turn that idea into a reality.
Below are images of tornado damage to wood-frame homes in Joplin, Missouri.
For more information on the disaster-resistant benefits of BuildBlock, click here.
Information on the energy performance benefits of ICFs can be found here.
To learn more about ICF construction, click here.
ICF Disaster Resilience
October 8, 2012