How to Build: Roofing & Insulation
Roofing & Insulation Types:
Concrete Roof
Concrete Roofs fall into 3 main categories, ICF, Wood or Metal Deck, and Precast.  ICF roof panels are typically 6 inches or thicker and can span up to 40 feet (with thickness increasing as span increases). Examples of this are
BuildBlock's BuildDeck, and Lite-Deck. One advantage of an ICF roof is that the insulation for the roof is already in place, and protected on the inside of the roof.  With a wood or metal deck roof system, the concrete cap is supported by a bar joist or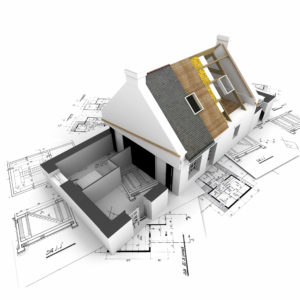 other metal formed structure, and the concrete can be either integral with the supports, as with Hambro, or not as with the Trade Ready Floor System from ClarkDietrich or Deck Span from Metwood. The advantages of concrete decks are many, especially in areas with frequent severe weather.  Poured concrete roofs may be flat or low sloped. Precast, which includes Hollow Core Precast Panels and Tilt-Up Panels can be set with higher slopes.  ICF roofing systems poured integrally with the walls provides the most secure attachment. You can also build a safe room using any kind of concrete roof system for lifesaving protection.
Wood / Metal
Most wood or metal framed roofs are either Truss design or rafter design.  Trusses are an engineered, factory-built piece that is brought onsite already assembled and then hoisted into place with a crane. For smaller designs this is all done by hand.  They allow a much faster assembly of the ceiling and can be designed for extremely long free spans.  Rafter style roofs are built onsite, and generally accommodate taller peak roofs and other custom features.  Commercial builders will often use Bar Joists or steel beams to span the larger distances in commercial buildings. Residential projects don't typically use this practice though.
Some homeowners, in an effort to have the best of both worlds, have chosen to build a flat deck concrete roof, and place a rafter or truss system above it to have a more traditional roof profile.  In the event of a natural disaster, the pitched roof above can be lost without losing the integrity of the structure below. The "attic" area can also be used as additional storage, with a concrete floor.
Roof Finishes
There are a variety of roof finishes available.  For standard wood-framed roofs, composition shingles and shakes are ideal but are more difficult to work with on concrete roofs, requiring additional furring and decking. Clay tile roofs work with most systems.  Hot tar and gravel are typically reserved for flat commercial roofs but may find a place in southwest style architecture. Waterproofing membranes can be used in place of the hot tar, and have gravel placed over them as well.  Some of these may be sprayed or rolled on, while others are a peel and stick roll.  Closely related to the waterproofing membrane is Polyurea coatings.  A hard and durable material, it is sprayed on and requires no additional materials, such as gravel to protect it from sun and weather.  (Polyurea may also be used as an ICF coating for both the interior or exterior)
Green Roofs 
Green Roofs are becoming more popular and are an excellent way to manage heat and water at the roof level.  These roofs typically reduce the amount of heat present on a roof.  Most roof systems reflect or contain the heat in order to prevent it migrating to the interior of the building.  A green roof, or rooftop garden, is a vegetative layer grown on a rooftop. Green roofs provide shade and remove heat from the air through evapotranspiration, reducing temperature of the roof surface and the surrounding air. On hot summer days, the surface temperature of a green roof can be cooler than the air temperature, whereas the surface of a conventional rooftop can be up to 90°F (50°C) warmer. (http://www.epa.gov/heatisland/mitigation/greenroofs.htm)
Insulation Options
Insulation options for roofs are as varied as the finishes themselves. Batt Insulation, Icynene spray insulation and foam sheet insulation are all used regularly on roofs in both commercial and residential applications.  Foam sheet insulation is typically used above the roof, or below a concrete slab poured over a deck. Batt or spray insulation is used around rafters, and joists inside an attic. It is critical to ensure that the insulation is protected from weather and solar damage.  Radiant barriers can be placed above the insulation or inside the attic to mitigate heat, and many roll-or spray-on roof coatings are reflective in order to further reduce the temperatures transmitted to the interior of the structure.
Roofing & Insulation
July 3, 2013