About the 2017 ICF Builder Awards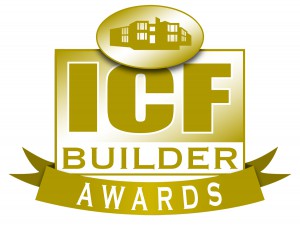 The ICF Builder Awards are held annually to recognize the best in insulated concrete construction. This construction method uses rigid polystyrene foam and reinforced concrete to create structures that are beautiful, yet disaster-proof, energy-efficient, and remarkably affordable.
Begun in 2005, the annual project-of-the-year competition showcases the innovation, quality, and craftsmanship possible with this construction method. It is the most prestigious award offered to ICF professionals. This year's contest attracted more than 50 top-notch entries, including a mid-rise hotels, municipal buildings, schools, offices, churches, and residential projects of every shape, size and style.
"The variety and scale of projects being built with ICFs is truly astounding, It's time these outstanding projects and the ICF professionals associated with them receive widespread recognition, and we feel privileged to take a leading role in that. These homes and commercial buildings serve as our most effective ambassadors, generating interest and curiosity during the construction phase, then serving as concrete examples of the durability, energy-efficiency, and beauty for which ICF structures have become famous."
Clark Ricks
Editor ICF Builder Magazine
Organizer, ICF Builder Awards
Winners were chosen in 10 categories: Light Commercial, Heavy Commercial, MultiFamily, Hospitality, Education and five residential divisions. The residential entries were categorized base on their square footage, with breaks at 3,000 and 6,000 sq. ft. Commercial projects with a total cost of less than $5 million competed in the Light Commercial category. Larger projects competed in Heavy Commercial.
This year BuildBlock had 3 projects chosen as finalist and 2 of those projects were recognized as winners. First, Stone Creek, by Charis Homes in Ohio, received first runner up in the Small Residential category. Secondly, the Atlantic Beach House in Florida, built by Green Built, received first runner up in the Unlimited Residential category.    
All projects were judged on their performance in six areas, including architecture, complexity, craftsmanship, size, significance, and sustainability.
In addition to the presentation ceremony at the World of Concrete trade show in Las Vegas, winning projects are featured in the March/April 2017 issue of ICF Builder magazine and on the award program's website www.builderawards.com.
 For more information on ICFs and the ICF Builder Awards visit www.icfmag.com. Click below to see our two winning projects!
This 2,570 square foot house offers incredible savings as well as an environment that is so healthy, it literally changed the lives of the homeowners.
This 6,850 square foot homes innovative design, outstanding performance, and scenic location made it one of the top projects of the year.
Gallery